AKC DC, UKC GRCH, IABCA INTCH XO ULALA, SC, CGC, HIC,  UKC TOTAL DOG (2)  "LALA"
---
VITAL INFORMATION
Born: 26 Jan 2009

Breeders:  Lori Evans and Joseph Buchanan

Owners: Bekki Pina and Abigail McDonough-Sheeley

Lives  in : Bowie, MD

Registration numbers: UKC: P611-856  AKC: HP33239101
DNA - Collected
Patella: Normal
CERF:  E1-Lens, punctate cataract *significance unknown (Feb 2012)
(Optamalogist saw minimal scarring on eye, we presume from hunting in brush, likely scratched eye.  Will re-test
                 prior to breeding to ensure not progressive.  No history in pedigree of cataracts.  Please contact for more info.)
HIPS: Good
THYROID/Chemistries/Differential/Resting Cortisol level: Normal
Full Dentition

Height: 19.8in

CHIC NUMBER:  All tests complete for AKC CHIC Number, but OFA will not accept Dr. Jean Dodd's Thyroid testing at this time.
Health Note:  Sire has produced Addison, which makes Lala a High Risk Pedigree.  If bred, she can only be bred to unaffected sires.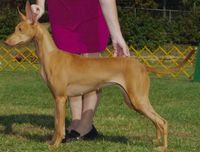 ICh, AKC Ch, NL Ch, DK Ch, LuxCh, BelgCh, KBHW '04, EW'05,Landssieger '05, Jahrhundert-Sieger '06, Bundessieger '06 Sovrin Superman SC CGC "Kal-El"

AKC Ch Enigma Sovereign Journey "Eli"

AKC Ch Enigma Sweet Heather-Bell "Heather-Bell"

AKC DC Qhaveat's Good Fortune SC

Int Ch Nord Ch Antefa's Jabbah-Kaa "Kent"

Norduch Ch Farao Anubis Isis

Int Ch Siphra's Tell Me No Lies

Int Ch NL Ch WW-95 Imerat-Paroo of the Netherlands

AKC DC Qhaveat's Good Fortune SC

AKC Ch Wadjet Windwest the Wanderer

AKC Ch Shema's Hoagy Khara Michael

AKC Ch Shema's Winkin Wadjet

AKC Ch Qhaveat Shema Heavenly Bodhi JC

AKC Ch Shema's Ghazzi Khan SC "Ghazzi"

AKC Ch Shema's Blinkin Bodhi

AKC Ch Shema's Mia Mystic Warrior

AKC Ch Shema's Ghazzi Khan SC "Ghazzi"

AKC Ch Shema Mia Jubilee "Jubilee"

AKC Ch Beltara's Pantooset Oberon JC "Oberon"